Fresh Start
A new beginning. An empty canvas. A world of possibilities... seems appropriate for a first entry.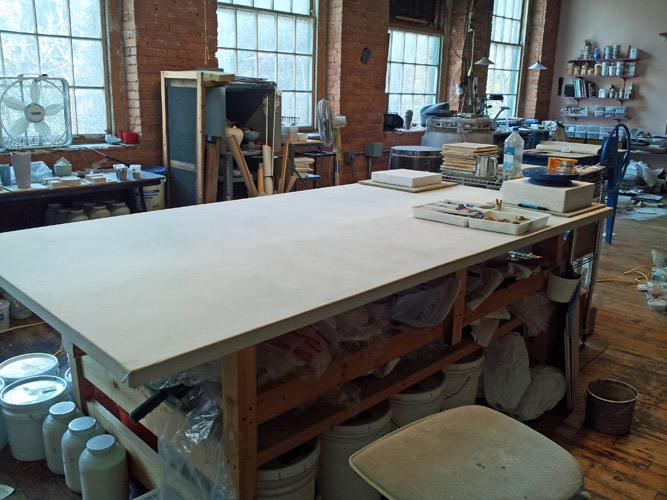 It's an invitation to play, albeit sometimes overwhelming, and begin new work. In whatever medium I am working with, a clean table means that I am ready. I have supposedly prepared the art-making components, procrastinated in every way imaginable and unless I decide to pile on every item that I recently removed from it, I will be reminded of inertia each time I look at it.
Looking at it is unavoidable. It is nine feet long. So the idea is to get something on it immediately; something that I don't have to think too much about but will have me back in a routine. I have learned in the past that it is imperative to keep molds at the ready for times such as this. It takes a fairly long time to make make molds....maybe not the actual mold itself but the interval of time it takes in between the mold prep and drying time (before the mold can be used) can be weeks. After making a mold, I stash them away, as in the interim, I have moved onto another project.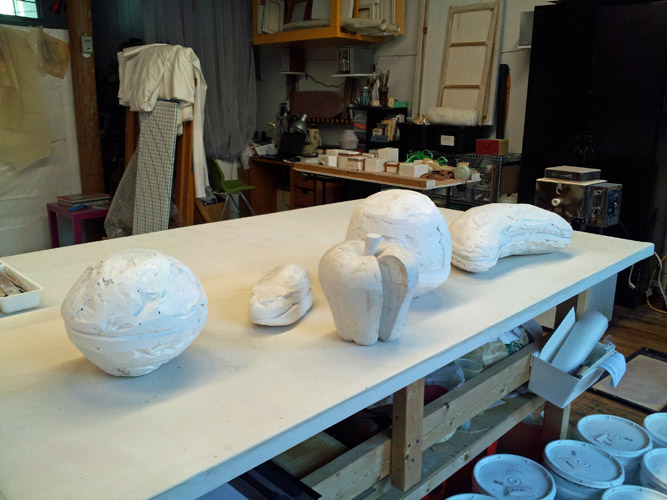 I had this dream about giant fruits, sheathed in upholstery-type textile patterns. They had a sign stating that they were "liberty pears" and sold for $1.49 each (on sale). They were so wonderful and I was taking as many as my arms could hold.
Last March, during a snowy stretch, I decided to revisit this dream and made molds for the "liberty pear", "liberty apple" and "liberty banana". There were bumps along the way; I hade to make the banana twice because there was no way to remove the positive cleanly from the mold after my first try. Knowing that if I have trouble removing the dummy positive from the mold, it will be fruitless (no pun intended) to attempt making a piece out of porcelain without risking cracks and warping. So, I set up the banana positive a second time and remade the mold. These are PRESS MOLDS--meaning that slabs of clay will be pressed into the molds, allowed to dry a bit and removed when stable for joining together. The pear, apple slice and banana have just two pieces; the apple needed three. The apple "positive" is shown in the photo above. It is also made of clay but really could be made of a any variety of materials.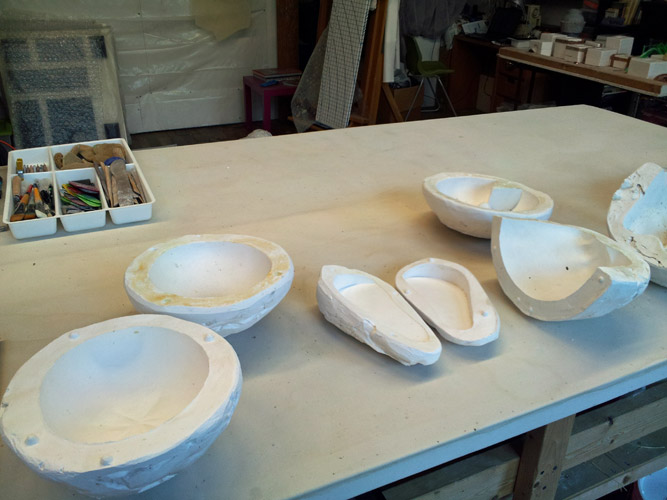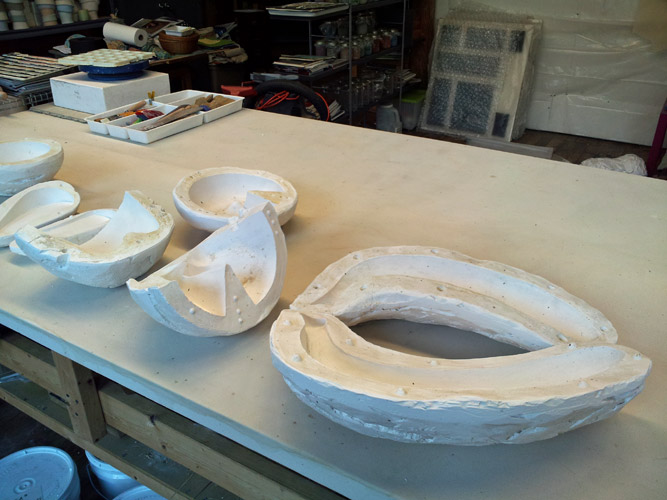 We'll have to see what color porcelain I decide to use in each fruit mold. Once I set my palette, I'll roll out some slabs and make some fruit. Within a couple of hours, I can start to add some surface color with porcelain slips! Stay tuned...